Transaction Cancelled
Your PayPal transaction was cancelled. Your PayPal account was not charged.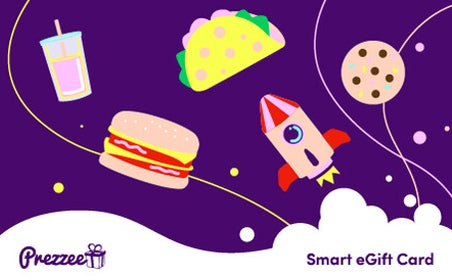 On The Go Eats Smart eGift Card
The Prezzee On The Go Eats Smart eGift Card is the ultimate swap card that turns into hundreds of brands and lets your recipient choose what the want. Shop online at Prezzee.
No expiry

Personalise your gift

Message

Video

Photo
At last, the perfect gift, a gift of love for the belly and a cure for hangry. A gift that creates memories, even if you're nowhere in sight. Introducing our On The Go Eats Prezzee Smart eGift Card featuring our top ten dining retailers listed below. Easy to send and personalize with a video message or note. And the best part is that it's digital, so whenever the mood strikes, hunger strikes, or the homemaker strikes, it's easily accessible. No more losing or not having a gift card on you. Give the gift of dining and even spontaneity. That's a gift that's remembered.
Being 100% digital, it can't get lost, and it's sustainable so there's no plastic or unwanted gifts ending up in landfills!
Have it delivered instantly or schedule it to arrive at the perfect time via SMS or email.
It's easy to send:
Select the On The Go Eats Smart eGift Card and the gift value Choose a special greeting card, add your own photo or video message Save or store in the Prezzee wallet and always have them with you on your phone. And simple to swap and spend:
Click on the Prezzee On The Go Eats Smart eGift Card from the email or SMS message Select a retailer eGift card you like and the amount to swap to that card Repeat until the money runs out! Sign up and never lose another eGift card! Store all your eGift cards securely in the Prezzee wallet and have them ready to go on your phone whenever you are.
Your recipient can redeem their On The Go Eats Smart eGift Card for one or multiple participating retailer Gift Card/s, up to the gift card value, including: Applebee's, Texas Roadhouse, Bill's Bar & Burger, Burger King, Taco Bell, Chipotle, McAlister's Deli, Subway, Buffalo Wild Wings, Maggiano's Little Italy, Domino's, DoorDash, Darden Restaurants, Uber Eats, Reb Lobster, Papa John's, Outback Steakhouse, and Krispy Kreme Doughnut. The On The Go Eats Prezzee Smart eGift Card doesn't expire for users to exchange to a new retailer gift card of their choice. Once the new gift card has been selected new expiration dates will be set and terms and conditions of the chosen retailer gift card will apply.