Transaction Cancelled
Your PayPal transaction was cancelled. Your PayPal account was not charged.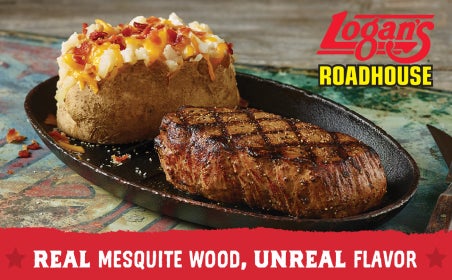 Logan's Roadhouse eGift Card
No expiry
At Logan's Roadhouse® you can come as you are, be yourself and make lifelong friends. You'll enjoy our high-quality, moderately-priced menu featuring over 30 entrees including aged steaks, hand-cut on site, mesquitegrilled chicken, fresh-ground steak burgers, baby back ribs, seafood, and specialty salads made from the freshest ingredients. And don't forget our signature ice-cold longnecks, mouthwatering, made-from-scratch yeast rolls, and bottomless buckets of in-shell peanuts. Come on in, loosen up and toss some peanut shells on the floor at Logan's, The Real American Roadhouse®!