Transaction Cancelled
Your PayPal transaction was cancelled. Your PayPal account was not charged.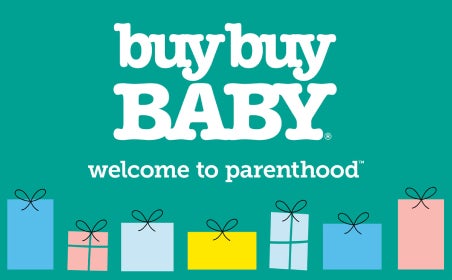 Buybuy BABY Gift Card
Give a gift you know they'll love with a buybuy BABY gift card. You can also check out our complete range of gift cards from hundreds of top brands. Give today!
No expiry
Welcome to buybuy BABY®! Our mission is to ensure that new and expectant parents have everything they need to confidently welcome their baby and navigate the transitions of life as a family.
In the journey of parenthood there are fun parts and messy parts, celebrations and challenges, dreamy snuggles and sleepless nights. We're thrilled to be here for you every step of the way, with helpful guidance and an amazing selection of everything from the best of the best baby gear along with everybody's favorites – all at everyday low prices.
Shop online or visit one of our 100+ locations nationwide, where you can explore thousands of products first-hand, and let our expert associates help you prepare for pregnancy, parenthood, toddler transitions, and everything in between.